Last January, the hubs and I were super lucky enough to live the parenting dream and getaway to Hawaii for a long weekend.Our good friends from college were getting married on the beautiful North Shore of Oahu. The kids were happily being spoiled with the grandparents and we were sipping mai tais by the pool at Turtle Bay resort.
We enjoyed a leisurely dinner, we slept the whole night through – literally feeling like the luckiest parents on the planet. On the morning of the wedding, we were spending a lazy morning drinking coffee in bed when this came through on my phone:
Jeremiah's response was, "Are you sure it's not a drill?". At which point I hysterically screeched, "IT LITERALLY SAYS 'THIS IS NOT A DRILL!!!!!!!!!!'". I jumped up, threw on some clothes and dashed for the door while Jeremiah grabbed our backpack with wallets and we took off to seek shelter. The hotel staff were freaking out and had no idea where to send us but I remembered there was a basement level hallway down by the pool so I shouted for people to follow us and we ran down there.
As it hit me that we might be on our last 12 minutes on the planet, I was thankful for 2 things. One, we had a beautiful life together already. Two, I knew our daughters would be in good hands. We were able to send a quick text to my brother and his wife that we might be taken out by an incoming missile as well as to the grandparents and know that our little girls would be taken care of forever. You see, I had planned for this before we left. …well, not the ballistic missile specifically, but an in-case-we-are-both-taken-out-and can't-care-for-the-kids plan, and communicated this to all important parties. Otherwise, this horrifically stressful moment would have been even worse.
We, rather belatedly actually, made an estate plan and formalized it on paper after baby #2 came along and parenting got real (Christiana is probably cringing reading that we didn't do it before then). Do you have one? Chances are you don't… Not sure where to start? My brilliant niece (who's older than me… we have a crazy big family) has started a family law firm, Prunty Law, PLLC and just wrote her inaugural blog post about exactly this! She's also a smart mama herself.
She writes, "As a parent to a new baby, you wouldn't dream of putting your infant to sleep on his/her stomach with a fluffy quilt, because the worry of SIDS is upper-most in your mind, but the vast majority of new parents (and yes, some older parents too) have not made an estate plan that outlines who they want to care for that same precious child if they are no longer able to do so."
It's not as complicated as you would think. Does it suck to have to sit down and think about something terrible happening to both your spouse and yourself and someone else raising your kids? Heck to the yes. We do lots of sucky things as parents that don't have nearly as important of results.
Caitlin lays it out for ya step by step, "If you haven't had the conversation with your spouse/partner/co-parent yet, have it! Set time aside to discuss who you would want to care for your child if both of you are unable to do so.". That's right. You have to have a serious discussion. With multiple sentences back and forth. So… probably you'll have to hire a babysitter for this one. I can hear you now, "But I don't want to waste a date night talking about morbid stuff!!!"….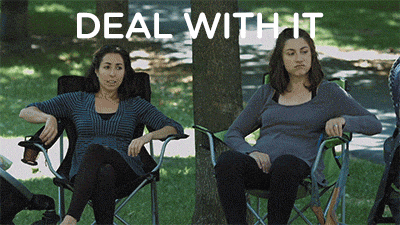 Get it over with. Like cutting the kid's nails, the longer you put it off, the more likely bad things will come of it.
Back in Hawaii… 23 of the longest minutes of my life later, we got the second alert that the first one – the incoming ballistic missile alert – had been a false alarm. I'm sure whoever was responsible is now in witness protection if any of the other moms out there had the kind of rage I did. After some very stiff Tito's and POG juice cocktails, we attended one of the most beautiful and emotionally charged weddings on the planet – handled in stride like only a pair of Hawaiians could:
And when I got home, I hugged the living sh*t out of my little girls and cried and totally weirded them out. If you don't already have an estate plan, head on over to Caitlin's blog to get working on it. Like, today. Awesome.