Yep, you read that correctly. GREEN Smoothies! Cue all kids (and arguably a large percentage of adults) tuning OUT. But stick with me. We all know that eating our greens is important for health and fitness reasons, and today we are blending up the original green superfood, spinach.
Packed with calcium, iron, and vitamins, spinach has boasted major staying power through diet fads and gleaned nutritional street cred from modern nutritionists to legends like Popeye himself.
The calcium in spinach can help strengthen your bones to fight against injury, and vitamins A and C, fiber, folic acid, and other nutrients fight against colon and breast cancers. Spinach also helps to lower damaging protein levels in the blood and can protect against high blood pressure and heart disease.*
Basically, spinach has nutritional benefits for all ages and all stages of life. The good news is there are much more fun ways to get your daily spinach in than a bowl full of salad every day of the week. (And whose children would ever do this BTW?!) Enter – the green smoothie. Delicious smoothies sneakily stocked with spinach.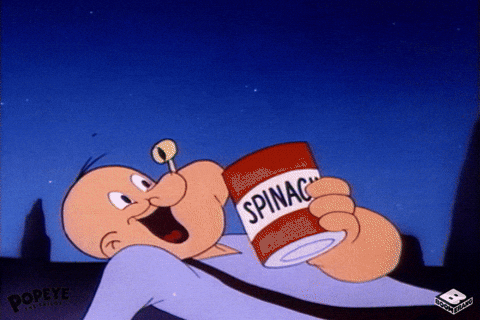 In our opinion, there's no better way to keep healthy eating rolling through the new year than incorporating smoothies into your regular routine.  The great thing about using spinach in smoothies is that it actually has a very mild taste so it blends well with other ingredients. So, whether you are new to the pursuit of your daily greens, or a regular green-juice goddess, we've compiled a list of our Real as a M*ther all-time favorite green smoothies that are packed with nutrient-rich spinach and actually taste really good.
Nut-Butter Banana (and Spinach! Just don't say that out loud) Smoothie
1 cup fresh baby spinach
1/2 cup organic no sugar added nut butter of your choice (almond, peanut, and cashew butter all taste great)
2 bananas
1/2 cup oats
1 cup ice
1/4 cup honey
1/2 cup plain Greek yogurt (optional – omit to keep dairy free)
1 cup milk of your choice (we typically use whole milk for our kids, but also love almond and coconut milk dairy-free options)
Our favorite optional add-ins: vanilla protein powder, chia seeds
Makes 2 large or 4 small smoothies.
Green & Glowing At-Home Smoothie
Whenever we take our kids to Whole Foods, (which as you may know if you have ever taken 3 or more children to Whole Foods, is a frantic 2-hour endeavor with a $500 minimum) we all end up at the smoothie bar to fill up on one of their delicious Green and Glowing smoothies. When we are not at the store (hallelujah), we make this knock-off version at home.
1 cup frozen pineapple
1 cup frozen mango
1/2 cup frozen peach
1/4 cup dried unsweetened coconut
1 -2 cups milk of choice (adjust for preferred thickness)
1/4 cup flax seed
1 banana
1 cup fresh baby spinach
Our favorite optional add-ins: vanilla protein powder, collagen peptides (for the grown-ups "glowing" skin)
Greens-on-the-Go Smoothie
We love this smoothie for the flexibility of its ingredients (basically whatever we have in the freezer actually works), the ease with which we can throw it together on-the-go (which is pretty much constantly – we have ten kids between us, remember?), and for the fact that it tastes vaguely like the most nutritious PB&J you've ever had.
1.5-2 cups spinach
1 tbsp nut butter of choice
2/3 – 1 cup milk of choice
1 handful of oats
1.5-2 cups berries of choice
1 shot of maple syrup
Our favorite optional add-ins: A shot of maple syrup to sweeten it up for the kids, a 1/4 cup or more of yogurt for a creamier smoothie, and coconut oil for extra good fats and coconutty flavor.
Chocolate Crush Smoothie
Ok, so this recipe doesn't involve eating any candy. Womp, womp. Sorry folks, this is a green smoothie post, after all. But, the nutrition-packed ingredients of this creamy smoothie give it a chocolatey, nutty, flavor that is almost as good as having candy for breakfast (or lunch for that matter – this is Kristy's fave weekday lunch) and always keeps us coming back for more.
1 cup milk of choice
2 frozen bananas
1/2 cup walnuts
2 cups spinach (or 1 cup kale)
1 scoop chocolate protein powder
1 avocado
Optional add-ins: Anti-oxidant boost (Kristy uses Nerium's Youth Factor Superfood Powder), coconut oil or flakes
So Fresh and So Green Smoothie
This smoothie is a super-refreshing pick-me-up any time of the day. We love it particularly while dreaming of warm tropical days, or while recovering from an afternoon of chasing our kids around the house. The superpowers of spinach and mint combine to make this almost, just almost a better green alternative to coffee. TBD.
1.5-2 cups spinach
1 banana
1 cup frozen mango
1 cup orange juice
1/2 cup yogurt
2 tbsp – 1/4 cup mint
Our favorite optional add-ins: vanilla protein powder, coconut flakes, chia seeds
That's a wrap on green smoothie Wednesday! Don't forget any of these smoothies can be made into delicious smoothie bowls by decreasing the amount of liquid, and topping with nuts, fruit, and/or granola. Now, let's see if Popeye was right about all this spinach. Watch out, 2019!
Cheers, and Happy (green) New Year from all of us at Real As A M*ther! Moms to 10 kids, doctor, lawyer, doula/massage therapist, financial planner, and green smoothie makers.