"Twas the night before the holiday party and all through the fridge, not a stick of butter could be found, not even a smidge…with the children in bed and the dog in her crate, I'm wondering if Amazon delivers this late… "
The week of last-minute-everything
It's the last week before Christmas, y'all. The final countdown. The week that in our home is unofficially known as "the week of last-minute-everything." Between the perpetually forgotten stocking stuffers, out-of-stock toys, procrastinated holiday cards, cookie exchanges, white elephants, and school holiday performances; the office, classroom, and social holiday parties that often tend to occur during this same chaotic week have a tendency to sneak right up on me. Which is bad enough when you can't find your ugly sweater, but even worse when you realize you're on the hook to bring holiday treats for two dozen preschoolers and are plum out of a key ingredient.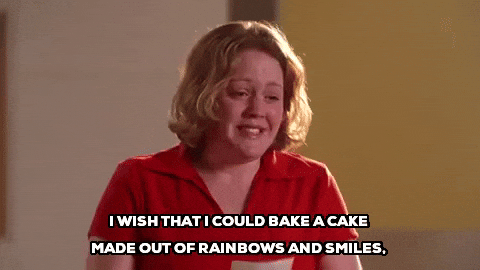 We all wish we could bake cakes out of rainbows and smiles, but in reality, we need butter. and sugar. and eggs. And sometimes… we run out. So, here are a few ways to save yourself if you come up in a bind in the kitchen.
Favorite "Baking Hack" substitutions
Here are some of my favorite ways to get the job done when a run to the store is just not going to happen.
Heavy cream – for every 1 cup of heavy cream, substitute 3/4 c. whole milk and 1/3 c. butter. Melt butter and mix into milk.
Eggs – Substitute 1 tbsp cornstarch whisked together with 3 tbsp water, whisked together, per egg.  I use this substitute all. the. time. It's great in a pinch, but also for saving eggs for brunch, for when that one vegan relative comes over, or even for cookie dough you know the kids will be sneaking. (No raw egg to worry about here!)
Baking powder and Baking Soda – Contrary to popular belief, you can substitute baking soda for baking powder, and vice versa. ON ONE CONDITION. The substitution is

NOT ALWAYS EQUAL.

Baking soda is much more powerful than baking powder and contains an acid. 

Read

carefully!

Baking Powder: Substitute 1/2 tsp of baking soda and 1 tsp vinegar or lemon juice for every 1 tsp baking powder needed.
Baking Soda: You may substitute baking powder for baking soda at a 3:1 ratio. So simply use three times the amount of baking powder as you would baking soda.

Sugar – Both honey and maple syrup (or a combination of both!) are good sugar substitutes in baking. Use 3/4 cup honey or syrup per every cup of sugar needed. Color will be darker if you're subbing for white sugar here. (Note: Some recipes suggest reducing liquid and adding 1/4 extra tsp. of baking soda for each cup of sugar replaced. I haven't done this, but you may notice less of a difference in texture with these adjustments)
Vanilla – Equal amounts of maple syrup, slightly less almond extract, or (something I always have in the fridge) vanilla almond or soy milk. When cooking for adults you can also spring for a boozy dessert by equally substituting any dark liquor like bourbon, rum or brandy.
Butter – You have a few great options here.

Greek yogurt: For every 1 cup of butter required, substitute 1/2 cup of greek yogurt.
Coconut Oil: Substitute in equal amounts, but note that taste can be noticeable (I think this can be a bonus, but non-coconut lovers should proceed with caution). A combination of coconut oil and greek yogurt is also fantastic!
Applesauce: For every 1 cup of butter, substitute 1/2 cup of applesauce.
Avocado: Substitute equally.

Shortening – Coconut oil is the same texture and subs really nicely here. It will give your baked goods a coconutty flavor, as noted above, so not the choice for you if you don't want that. You can also substitute butter (if you're not out!) at equal parts plus two tablespoons per cup. But expect a softer dough if you're making roll-out dough for cookie-cutting. 
If it's healthier holiday treats you're after, some quick (and sneaky) ways to make seasonal sweets less sinful are to:
Reduce sugar. You can do this without being skewered at the cookie exchange by adding extra vanilla and/or cinnamon if applicable. You can also cut up to 1/4 cup of sugar from most sweet bread and muffin recipes simply by sprinkling a teaspoon or two of sugar on top before baking.
Choose healthy fats. Butter, coconut oil, avocado, and whole milk yogurt are all good fats that top hydrogenated shortening, vegetable or canola oils in our kitchen any day.
Add fiber. You can easily add fiber to bread and muffins by reducing flour and adding flax, wheat germ, chia seeds, and/or oats in its place.  These substitutions not only add fiber but naturally cut calories and boost other nutritional benefits too.
Add protein. You can squeeze protein into bread and muffins (and even cakes!) by adding a scoop or two of your favorite vanilla or unflavored protein powder. Chia seeds are a nice addition to some baked goods as well.
Turns out you can have your holiday cake (and cookies and muffins) and eat it too.  Now that's some joy definitely worth spreading.
Christiana is a Navy wife and mother of 3, attorney and former realtor, world traveler, home renovator and decorator, yogi, fitness enthusiast, and amateur late-night holiday baker. (Photo credit: Tara Liebeck Photography)