I don't know about you, but I have never been motivated enough by a discount on sheet sets or one-size-bigger TV to get my lazy bum out of bed early the day after the Turkey Day feast. Some of you Black Friday Shoppers are so dedicated, you even brave going out in the midst of your Thursday evening tryptophan coma for the hottest deals! My hat goes off to you.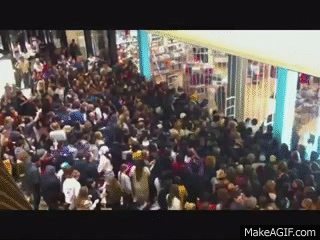 It got me thinking… what would be enough to get me to race the dawn to snag a hot deal… these, I think, could do it:
Pre-made, healthy meal delivery service. NOT Blue Apron where I still have to make it. NOT take-out where it's gonna add to my holiday pounds. Actual, home-cooked healthy food that children will eat and adults can enjoy that is delivered ready-to-eat to my doorstep. Heck, I would probably buy this without a discount…
Gift certificates for hair styling at a salon with a daycare attached that serves wine. Book a cut/color, get 2 hrs childcare and a glass of bubbly free! I'm. There.

"Philippe, just do whatever hairstyle takes the longest… "(Photo by Valeria Boltneva on Pexels.com)

Babysitter hours – I would take any discount that didn't make me feel guilty here. It's always a struggle between wanting to support those unfortunate enough to need to take a job watching my children and also not wanting to hemorrhage cash whenever I need to get away.
Stretchy pants that look stylish but feel like pajamas but also suck in all the lumpy parts, with phone-sized pockets. Show me a BOGO (because I'll need a backup pair when the one is covered in tiny-handprints-of-yogurt and dog hair), and I'm THERE.
While we're at it, a bra that has the push-up power to take me back to early-first-pregnancy, pre-nursing-any-babies boobs that also feels like a gentle cloud of support, not a medieval torture device. Like, how a friend would hold your boobs up for you in a time of need – not a husband, no grasping or pinching – just a friendly lift. Show me a buy 1 get 1/2 off, and I'll wait in a line a mile long!
First crack at buying a kid's toy that makes no noise and teaches children that cleaning the house is the funnest thing ever. This one, I'd camp out for.
The pelvic floor of a 17 year old. Not sure how they'd offer this one at a discount without something super sketchy going on, but I'd go out of my way for it!

Photo by Pixabay on Pexels.com

College Tuition for the kids. Helllllp please!!!
A Tesla self-driving car for the price of a Toyota Minivan. No gas station stops? Being able to hand out snacks to kids in the back without risking the lives of our whole family? Watch out people, door-busting this one!
Half off wine… come to think of it, this one probably exists and I'm just too lazy to find the deal. Maybe next year!
Happy shopping or just relaxing mamas!
Annie is a lazy shopper, mom of 2 girls with another kiddo on the way in California.