So, I know some of my Labor and Delivery or Newborn Nursery friends are gonna hate me for this post… but too bad, it's important and our readers deserve the best information! I keep finding myself rushing to check in with friends and family who recently had a baby and try to catch them before the baby has gotten that adorable first bath. Such a cute moment! And the freshly combed wispy hair after?? Alllll the 😍😍.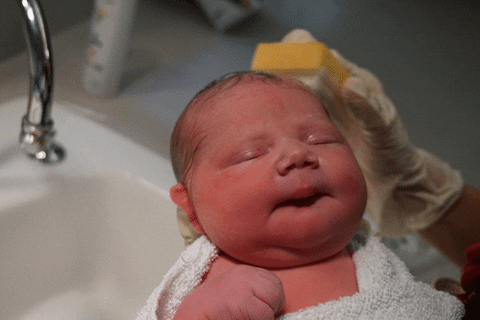 The thing is, babies aren't supposed to have a soapy bath so soon after their skin hits fresh air. Their skin has been protected in its own natural lotion called Vernix in a pH balanced amniotic fluid bath for their whole existence up until birth. It's the most fragile and sensitive their skin will ever be when it first comes into contact with dry, cold air outside the womb.
My dad, a family doctor with a huge amount of experience, trained at a time when as soon as babies emerged from the womb, they were scrubbed down with chlorhexidine – a powerful antiseptic we use to sterilize ourselves before surgery.
It was thought at the time that this would "protect" them from the dangerous bacteria they encountered when they passed by your rear end. That was after the doctor had of course sterilized your vag with copious amounts of iodine solution. He told me this and my eyeballs very nearly popped out of my head. *GASP* The yeast infections that must have caused!! The superbugs that would breed!! NO WONDER so many kids have crazy allergies and autoimmune disease has skyrocketed!!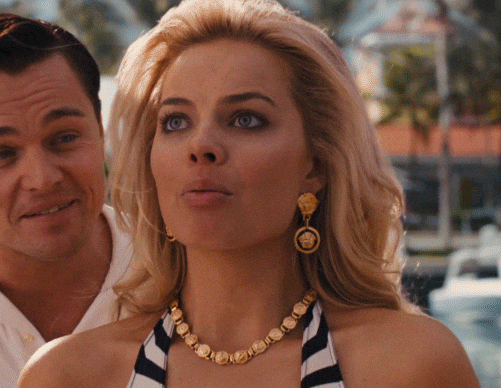 You see, I have been fortunate to be trained in the time of advances in the "Hygiene Hypothesis". The understanding we now are working with is that, lo and behold, in the days before all this anti-septic overzealousness, those autoimmune and allergic issues (which are so freaking hard to treat, btw) were lumped into the "rare diseases" category. And while it's great we now know to wash our food so we don't all die of dysentery Oregon-Trail-style, we have certainly skewed too far into the anti-microbial realm which is boosting many if not all of these processes*. (In case you're wondering, my dad was WAY ahead of his time and would not let this happen to his patients' babies.)
SO back to that brand new baby. Current practice is to wash with your typical Johnson & Johnson baby wash within a few hours of birth. This makes it so that the health care team is not functionally putting their hands on something that came out of your vag when they come to check on baby. Also, it's cute and baby then smells like what Johnson & Johnson have decided we should all believe a baby smells like. You get that white smooshy vernix stuff off so your photos don't look like something out of a Halloween movie and everyone is happy.
…..Except the baby. It NEEDS that vernix still on there to protect it. There is no lotion on earth that can really replace that and a soapy scrub washes it all away. A review in Advances in Wound Care sums it up well*:
The retention of vernix on the skin surface contributes to a higher skin hydration, a lower skin pH, and relates to a reduced heat loss after birth
So, washing this off your baby is like slathering your face in a thick layer of Creme de la Mer and then immediately washing your face again to leave your skin naked and dry. But worse. Because you can't buy more.
This is in addition to the absolutely critical happy bacteria (aka skin flora for the nerds like me) that you worked SO FREAKING HARD to put on your baby if you had a vaginal delivery or labored with your water broken. That "skin flora" has dramatic health implications. So much so that many hospitals are starting to swab mothers' nether regions to coat the baby in them after c-sections too. A soapy wash kills up to 99% of those bugs and you may never get them back in the same way.
There are studies galore out there going on looking at the benefits those bugs go on to have on gut health, maintaining healthy body weight, absorbing nutrients, allergies, eczema, auto-immune disease and more. I won't get over-sciency about this, but suffice it to say, we're going to look back on this hyper-sterile era and cringe.
So is it a little weird to think about your baby being coated in all that stuff from your lady parts? Sure. Is it an extra step for the docs and nurses to put on gloves? Yeah. Is it still super worth it to wait a bit for that first bath? HellToTheYes. Bottom line, just wipe the excess gore off, wait at least 24 hours, and preferably do a gentle water wash when you get home. Thank me later.
I would LOVE your questions about this, comment below!!
Dr. Annie is a Family Physician, mom of 2 with 1 on the way (nope, baby's not here yet, that's baby #1 over there, also, that's my husband, not a creeper nurse, he's a doc too so was working in scrubs when I went into labor) and lover of healthy bacteria in the Sacramento area.
---
*Adv Wound Care (New Rochelle). 2015 Oct 1; 4(10): 587–595. doi:  [10.1089/wound.2015.0642] Skin Physiology of the Neonate and Infant: Clinical Implications. Teresa Oranges, Valentina Dini, and Marco Romanelli*