We didn't necessarily intend to travel a ton with our two little ones but life keeps putting trips in our path and we aren't ones to say no just because we have young children. That being said, we have worked out a pretty solid standard packing list for our carry-on bags through trial and… *ahem* error. Some items are universal, while others of course depend a bit on age of baby/kid, so that's how I'll divide it here.
Our strategy with liquids is to show up to the airport with empty bottles and obtain water or milk or juice while we are there – much easier than the TSA hassle. If you're flying with breastmilk, it's best to have it frozen. Hot water is readily available to thaw it.
Universal list
Of course your own wallet, phone, charger, chapstick, scarf, sunglasses, medications and earphones….
Extra outfit (including underwear x2 for potty trained kids) for child in plastic baggy
Extra outfit for

you

in plastic baggy (can't stress the importance of this enough – kids can be naked wrapped in a blanket if sh*t hits the fan, you? not so much)
Snacks: 1 per hour of travel. If baby is still nursing, these are of course for you since you are their snack. You'll want these to be tempting enough that you can convince kids to eat easily during take-off and landing to pop their ears.
Smallish blanket and lovey/stuffie
Wipes – even if you're well out of diaper change years, these are a good idea for wiping hands/noses/alllll the other messes and spills
Cash in small bills – trust me, you'll be a much happier traveler if you can pay people to move your luggage, use valet, and buy a snacks from a cash-only stand in case of emergency.
Color photocopy of your child's birth certificate and/or their passport. This is usually all you need to show for young kids and you can keep the actual identification packed deeply and safely in a zipper pocket so it's not lost.
Empty bottle, water bottle or sippie cup that seals completely – high altitude will otherwise make a major leakage issue!!
Hand sanitizer. I prefer this spray, because it's compact, smells nice and is easy to use and won't leak.
Empty gallon baggies x2 to contain dirty clothes, random snacks, puke…. whatever!
2-12 months
First of all, this list starts at 2 months because I do not recommend you take a baby on a plane younger than that unless absolutely necessary. There are a LOT of potential germ exposures and if that tiny newborn gets a fever, it's considered a medical emergency and they would need multiple invasive tests to make sure they are safe. That being said, if you're forced to travel between birth and 2 months, the list would not actually be that different. This assumes you'll have baby as a lap-rider, not in their own seat – if you're lucky enough to be able to afford the latter, you'll also have the carseat.
Diapers: 1 per hour of total travel (car to airport, time in airport, plane, waiting for bags…. the whollllllle time) plus enough to get you to a store to buy more at the destination.
An extra extra outfit for baby – 2 total outfits. If you know your baby is prone to lots of pukes or blow-outs, do 3.
Extra pacifier (if your baby takes one) on a leash
Baby carrier of choice
Extra muslin or thin flannel blanket
Entertainment Ideas: You want things that are small to pack, can be cleaned and are not going to get lost between or under the seats when baby plays "throw on the floor" repeatedly.
If you breastfeed exclusively, that's it!
PRO TIP: Do whatEVER you have to do to wait to feed baby during take-off and landing. Hold out until the plane is actually accelerating down the runway or your own ears pop. IGNORE the people giving you dirty looks as baby screams while you're on the runway or in the initial descent. This is the best way to make sure their tiny ears pop. For older kids – hold out with those fruit snacks, juice boxes, etc… for the same time period.
If you pump:
If you formula feed:
Empty bottles with nipples and caps x2
Formula servings for twice the amount your baby would normally eat in the TOTAL travel time. ie: if the time from leaving your house to arriving at the final destination is 8 hours door-to-door and baby usually takes in four 4oz bottles in 8 hours (16oz) pack enough formula for 32 oz of bottle. This ensures you're ok in case of delays, dropped/lost bottles and baby eating extra for comfort, etc… We loved this Joovy container to keep servings straight, but you can also just pack in baggies.
1 year through potty training
Optional: 1 bottle of milk in a cooler bag if you're worried there's not a cafe or shop you can buy some milk past security.
Potty Training and Beyond
A note about screen time here…. should you plug your kid into a screen for hours on end on a regular basis?? NO. Should you let them watch 2 movies back to back on a plane so you can read a kindle book and relax? Heck to the yes! Embrace the screen time during travel, it will save you so much sanity which you'll need when dealing with checked luggage and rental cars.
Tablet loaded with a couple games, movies or shows. We Real M*thers love Endless School Bundle, Daniel Tiger's Grrriffic Feelings, Shape Builder, Magic Fingers Lite and Peg + Cat Big Gig. Post coming soon with more info on this!
These are super comfy, pack down small and come in all different fun styles.
Water wow pads and MagnaDoodles are still great fun for bigger kids, and coloring books are also a great option at this age.
To Gate-check or Not To Gate-check
There are a lot of arguments for/against the gate-checking of strollers and car seats. On the one hand, it can be convenient to have all of that right when you arrive. You don't have to wonder if it's actually going to make it to your destination because gate-checking tends to be super reliable. On the other hand, schlepping that mountain of stuff through the airport, folding it up on the jetway, waiting around for it on de-planing and schlepping some more is, well…. a schlep.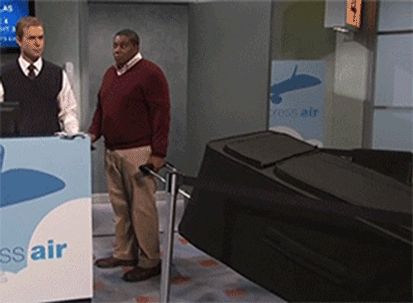 My strategy has always been to travel as light as possible, so we have usually rented at the destination. You can add a carseat to a rental car with any major company and get cribs and even high chairs from most hotels. You can also arrange rentals of strollers, bouncers, pack & play cribs and more through companies like Baby's Away. They deliver and pick up from homes or hotels and have been fantastic for us.
Dr. Annie is a married mom of 2 with another one on the way and family physician with travel to more than 20 countries under her belt.