Back to school mornings got anyone else feeling like they are #herdingcats ?? You have TONS of time to make breakfast for everyone before the bus/carpool/work/drop-off, right?!?!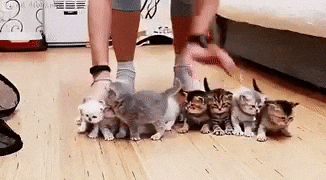 Many times, school mornings are a "just trying to get pants on all parties before they exit the house" kind of mornings, so healthy, homemade breakfasts for the whole squad can sometimes feel out of reach. And we get that. BUT we also know that no one learns better hangry, so it feels awesome when we can pull together a nutritious breakfast for our little one's learning minds.
Christiana's Pick: Make-Ahead Protein Waffles
We LOVE waffles in our family, but as a mom, I didn't love that most prepared mixes and waffle recipes were full of sugar, hydrogenated oils, and not much nutritional value. Enter the make-ahead protein waffle. These are definitely not just for the kids! Full of healthy fats, protein, and fiber, these waffles keep our whole super-active family full and energized all morning. I almost always mix these up on a Sunday morning and double the recipe so I have batter to last me a few weekdays. If you make ahead, simply refrigerate the batter and add a teaspoon of warm water to the bowl and re-mix before cooking on the waffle iron. As a bonus: There also lots of great ways to top these. Our house favorites include farm-fresh berries and cream, bananas and nutella, or frozen blackberries with pure maple syrup.
2 cups flour
2 Tbsp sugar
1 Tbsp baking powder
1/2 tsp salt
1 3/4 cups milk of your choice (I like to use organic whole milk and/or unsweetened almond milk. You may need slightly more or less depending on the amount of optional extras you add, listed below.)
6 Tbsp coconut oil  (Easiest to mix batter when oil is warmed to a liquid)
2 eggs
1/3 cup ground flax seed (Optional)
1/4 cup chia seed (Optional)
1/4 cup protein powder (Optional. We prefer flavorless or vanilla, particularly Bob's Red Mill Pea Protein)
To Make: Combine all ingredients in a large bowl. Mix and let rest while waffle iron warms. Scoop 1/4 -1/2 cup batter per waffle based on desired size. Top and enjoy!! Refrigerate leftover batter for busy weekday mornings. Will keep covered and refrigerated for several days.
Annie's Pick: Protein Banana Muffins
These are easy to make a week in advance, they freeze and reheat super easily – plus you get rid of those old bananas, hoorah! They are SUPER fast because you cheat and use Kodiak Cakes Power Cakes Protein Packed Flapjack and Waffle Mix. They are also healthy because they're whole grain and pack great healthy protein in each one. They taste good enough for my picky eater to mow through them because they're made with real butter. Don't you dare start skimping on that or throwing in your "applesauce in place of fat" recipe substitute nonsense- if you need to review my post about healthy fats to convince you, go here. The recipe is from the back of the box with a little less sugar and added vanilla. Kodiak also makes a gluten-free mix if you're a glu-tard like me 😀
2 cups Power Cakes Mix
1 cup organic whole milk or milk substitute of choice
1 large egg
1/3 cup brown sugar
1/4 cup soft unsalted butter
2 ripe bananas, smashed up
1 1/2 tsp vanilla extract
1 tsp cinnamon
optional: about 1 C chopped toasted nuts, coconut, chocolate chips…
To Make: Preheat oven to 350 and grease or line muffin cups (This will make 1 dozen but I usually double it). Combine all ingredients in a large bowl. Use 1/3 C measuring cup to scoop into muffin tin. Bake 14-18 min for full-sized muffins or 10-14 for mini muffins. If you want to be a little "extra", after they come out, melt some butter in one dish and mix up 2Tbs sugar and 1tsp cinnamon in another one. Dip muffins in butter then cinnamon sugar. You can also swap the banana for pumpkin and the cinnamon for pumpkin spice and up sugar to 1/2 cup for a festive fall version reminiscent of #PSL.
Kristy's Pick: Sausage or Bacon n' Egg "McMuffins"
These paleo goodies are a Wright fam favorite for protein on the go. They are a meal prepper's breakfast dream and can be made in regular size or "mini" for the kids. We have adapted this recipe several different ways, but from realsimplegood.com, the basic method is the same. If you're like my household where"mushroom" is a bad word and provokes riot level hunger strikes, this recipe above needs to be adapted to avoid the Fungi That Shall Not Be Named. However, we've found it is easily substituted and a fun way to avoid the tummy rumbles and have the kids get involved! Also, since we have chickens, eggs are a plenty in our house so we try and utilize them any way we can.
For the bacon muffins:
5 eggs
1/2 lb bacon, diced and precooked
 green onion, diced
 handful of spinach, chopped
 salt and pepper, to taste
For the sausage muffins:
5 eggs
1/2 lb breakfast sausage
1 sprig of rosemary, chopped (optional – create your own flavor options here)
handful of kale or spinach, chopped (optional)
salt and pepper, to taste
To Make: Preheat your oven to 350 degrees. Heat two medium skillets over medium heat. Add in the sausage to one skillet and the bacon to the other. Brown the sausage and bacon and remove from the heat and set said.  In two separate medium bowls, crack five eggs into each bowl. Whisk the eggs up. Add in your ingredients to each bowl. This is where I let the kiddos take the lead. You can let them add herbs, cheeses, or extra meats they like! Next, rub a muffin tin with a little oil or spray with coconut oil spray, spoon the egg mixture into the muffin tin, filling them to just below the top. Place in the oven and bake for 30 minutes.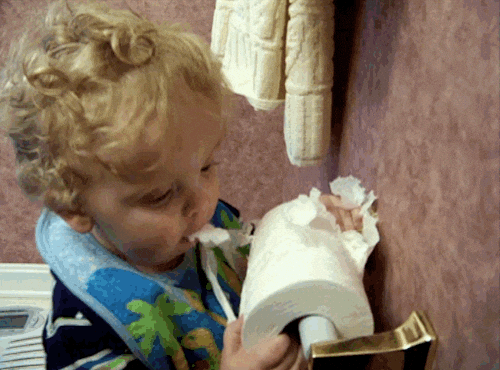 Hope this gives you all a few options beyond toast and squeezie yogurt (no judgement on those options though!) or…. paper products. Happy Back-To-School week Real M*thers!