While this is the Home Renovation and DIY section of our blog, there are many reasons and different stages in our lives where we may not have the ability to take on major home renovation projects. Be it time or budget constraints, or simply living in a rental where making permanent changes isn't an option, sometimes the dirty work just has to wait.  This post is a nod to some of my favorite, time-tested quick style fixes for the home in times or situations like these. Big style, little effort. No sledgehammers, no permits, no construction loans required. Promise.
These simple tricks of the trade are great tools to make a temporary house feel like home, stage a home for sale, tap into design trends without commitment, or bring style into your home without investing a lot of time and money. 
Make a Gallery Wall
For those big, empty walls in your home, a gallery wall can make a big impact and really personalize your space without making any permanent changes or dropping any serious dinero.  Use your own photos, or print some cool stock images that speak to you. You can download some beautiful botanical prints for free from Botanicus.org.
I love the clean, simple look of black and white photos in matching frames. Or for a more colorful look, I love coordinating images to create a theme for a space, as below.
Improve Aesthetics with Lighting
Shed some light on your situation. Literally. I mean "wow this room is so great and dark" said no one, ever. Dark rooms feel smaller. Period.
Adding lamps to a space can not only brighten it, but add an instant element of style to it as well. Rental properties, in particular, often lack quality lighting (think harsh, fluorescent lights) and softer light from accent lamps can provide a nice alternative.
Rule of thumb for table lamps: Always, always, buy a PAIR. Even if you only need one lamp at the time of purchase, someday you will, without fail, need two and you will hate yourself for not buying the pair while you could. Trust me.
Play with Pillows
Let me start by saying that I have a definite love/hate relationship with throw pillows. In the sense that I hate how much I love them.
Like, I recognize how completely frivolous and unnecessary they are. I do. Remember that pillow scene in Along Came Polly?
I want to embrace that minimalist "who-needs-throw-pillows" mentality in theory. But in reality… pretty, soft throw pillows got me like…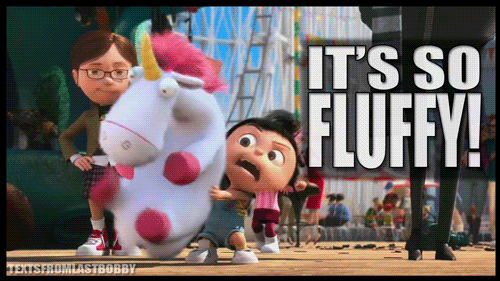 Because really, comfort is a thing. Fluff has never, that I am aware of, ever made anything less comfortable. And from a design perspective, throw pillows can totally change the look of a piece of furniture and/or update accent colors in a room for a fraction of the time and money required to replace large furniture pieces or paint walls.
You can easily change them when you're tired of them, or even swap them out seasonally if you're so inclined. Major pointer for pillows: Unless you are buying for staging purposes only, spend the money for pillows with removable, washable covers.
Bring the Green in
Indoor plants are another quick and simple way to warm and bring style to a space. (And I'm talking REAL plants here folks, none of your granny's faux flower arrangements) With the added benefits of purifying your air, plants are a design multi-tasker for making your home both prettier and cleaner. A few personal favorites are the fiddleleaf fig, palms, succulents, and orchids. The fiddleleaf fig (shown below) is having a major style moment as of late, but is also a notoriously slow and finicky grower.
Orchids are a design classic often written off as pricey or difficult to maintain but at around $15 for a medium sized plant, which should last you a few months at minimum (even if you kill it) I would argue they are more cost-effective than buying cut bouquets. I've had a few re-bloom for 3-5 years, which is like $5 a year. Definitely less than most fancy design items, and I swear that maintaining them is as easy as just watering less than usual houseplants. (You can find straightforward orchid tips from the pros here.)
For the non-plant people out there, succulents are the lowest maintenance way to bring the green in. (Bonus points if you coordinate your plants and your pillows.)
Temporary Wallpaper
Temporary wallpaper is a great non-permanent alternative to traditional wallcoverings and is a quick way for renters and commitment-phobes alike to tap into the current wallpaper trend. Put it on an accent wall, on stair treads, in a closet, on a door, in cabinets or on shelves, and make a statement with it.
Available in a variety of price points and design styles from mainstream retailers like Amazon, Wayfair, and Target. (Fixer Upper fans check out the shiplap print from Home Depot!)
Soften your Surroundings
Quality flooring is another element that is often lacking in rental properties and is generally difficult to install in homes without major expense and time. Area rugs provide a quick and easy way to add style to a space and cover less than desirable flooring.
Soften tile and vinyl floors wherever you can with rugs. Heck, I've even used area rugs over carpeted floors to define spaces and well, just to cover up ugly carpet. General rules for rugs: don't float a rug in the middle of a room. Always buy a rug big enough that it reaches your furniture. If that's not in your budget, I'm a big fan of layering smaller plush rugs over a more affordable natural fiber (jute) rug for a clean look with softness where it counts. Apartment Therapy breaks down how to layer rugs with style here.
Window coverings
Let's be real. Curtains are about as fun to shop for as socks. They're not exciting, but they're style necessities. Vertical blinds never helped noooobody. The short and simple truth of window coverings: buy the best you can afford, and hang them as high as you can. You won't regret it.
That's it. A quick and dirty on the quickest style fixes in my book. What are your favorite ways to add style to your space? And what style problems do you need solved on the cheap and easy? Shout out!
Cheers to happy homes!
Christiana is a Navy wife and mother of 3, attorney and former realtor, world traveler, home renovator and decorator, yogi, fitness enthusiast, and recipe and fine wine explorer. (Photo credit: Tara Liebeck Photography)