What we're drinking right now: Sancerre
Sancerre is a region of France that produces some of our favorite white wine of all time for splurge nights. According to Wine.com:
Marked by its charming hilltop village in the easternmost territory of the Loire, Sancerre is famous for its racy, vivacious, citrus-dominant Sauvignon blanc.
It also happens to be the wine drunk frequently by one Mr. Grey throughout the 50 Shades books, if you were paying attention…
If you like drier whites, and you happen to find a Sancerre for under $30, buy a case. This one by Robert Cantin Les Pierblancs has a rating of 92/100 and is priced at $22.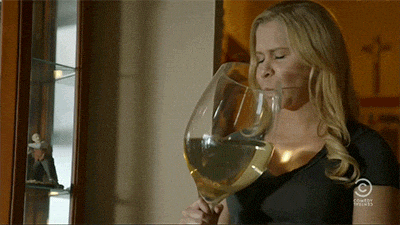 We love this one paired with your favorite seafood appetizer like local raw oysters or shrimp cocktail.
My husband and I splurged on a $52 bottle during a date night suggested by the local Restaurant known for its raw bar selections and pairings.
Certainly not at our price point for the day-to-day wine consumption, but well worth it for special occasions.
It was worth every penny. We'd never had a Sancerre before, and boy did we swoon!
Happy Whining! Wining!
Try and enjoy responsibly. (Which means uber)