With Fourth of July festivities behind us, summer grilling season is officially in full swing. And nothing quite says summer like the unmistakable smell of dinner on the grill after a day in the summer sun. So…. who's grilling this weekend? We are!
So let's take a look at what's cooking, good looking. Here's a sneak peek at some of the all-time favorites from our Lockers to Littles summer grilling menu.
Dry Rubbed Baby Back ribs with Raspberry Chipotle sauce
These are the only ribs we will ever make in our house ever. again. They are total summer perfection with all the flavor and just enough kick. The rub is from Food Network chef Jamie Deen (Yep, that would be Paula's son, so you know he's legit. You can link to the original recipe here.) We give it our own twist by teaming it up with Raspberry Chipotle sauce for the perfect blend of spicy and sweet.
For the rub:
1 tablespoon paprika
1 1/2 tsp brown sugar
1 1/2 tsp finely grated orange zest
1 1/4 tsp salt
3/4 tsp ground cumin
1/2 tsp ground black pepper
1/4 tsp cayenne pepper
4 lbs baby back ribs
For the sauce:
1 bottle BBQ sauce of choice
1 cup fresh raspberries or raspberry preserves
1 can chipotles in adobo sauce
OR
Robert Rothchild's Raspberry Chipotle BBQ sauce
In a small bowl, stir together all ingredients except the ribs. Rub mixture all over both sides of the ribs. Wrap ribs in foil or plastic wrap and refrigerate for at least 2 (or up to 12) hours.
For the sauce, I love this Robert Rothschild prepared raspberry chipotle bbq sauce made with simple, fresh ingredients, or you can make your own raspberry chipotle sauce by adding raspberries (or raspberry preserves) and chipotles in adobo sauce to any BBQ sauce and adjust the heat to taste with red pepper flakes and honey.
When ready to cook, preheat the grill to medium heat. Arrange the ribs on the BBQ and brush generously with raspberry chipotle sauce. Reserve any extra sauce. Grill for 40 to 45 minutes, turning occasionally (and sipping requisite summer beverage of choice). Cook until the meat is browned and crisp on the outside. Serve with remaining sauce on the side (and lots of napkins).
Recommended Bev Pairing: A light wheat Beer such as Hoegaarden or Bell's Oberon
Grilled Lobster with Garlic-Parsley Butter
If you like lobster in the slightest, stop what you are doing right now and make this recipe. Credit for this recipe is fully given to Saveur, and we have changed nothing because it's perfect.
8 tbsp. unsalted butter, softened
2 tbsp. finely chopped parsley
1 1⁄2 tsp. crushed red chile flakes
4 cloves garlic, finely chopped
Zest of 1 lemon
Kosher salt and freshly ground black pepper, to taste
1 lobster (about 1 to 1 1⁄2 lb), halved
1⁄4 cup olive oil
Combine butter, parsley, chile flakes, garlic, lemon zest, salt, and pepper in a bowl; set aside. Transfer lobster halves, shell side down, to a baking sheet; crack claws and place them on the baking sheet. Drizzle halves and claws with oil, and season with salt and pepper.
Heat a charcoal grill or set a gas grill to high; bank coals or turn off burner on one side (see "Grilling 101"). Place lobster halves, flesh side down, and claws on hottest part of grill; cook until slightly charred, 2-3 minutes. Flip lobster over and using a spoon, spread lobster with the garlic-parsley butter; continue grilling until lobster meat is tender, 3-5 minutes more.
If you're dealing with live lobster, learn how to humanely prepare your lobster here. Please don't boil.
Recommended Bev Pairing: A crisp Sauvignon Blanc, or a smooth Unoaked Chardonnay
Bacon Wrapped Scallops with Spicy Mayo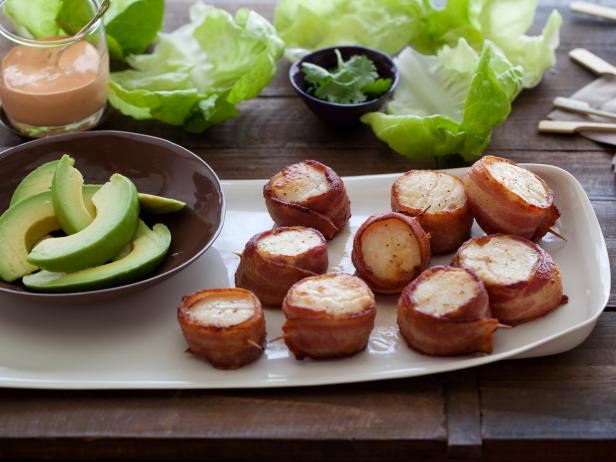 Tyler Florence has always been a go-to for me in the grilled meat department. He nails it with this bacon wrapped scallop recipe. The spicy Sriracha Mayo is the perfect sweet heat compliment to the saltiness of the grilled scallop with bacon.
1 1/2 pound large scallops
1/2 pound thin-sliced bacon
Extra-virgin olive oil
Sea salt and freshly ground black pepper
1 cup good quality mayonnaise
1/4 cup hot chili paste (recommended: Sriracha Hot Chili Paste)
1 lime, juiced
2 tablespoons chopped cilantro, plus more for garnish
2 heads Bibb lettuce, washed
3 avocados, sliced
Instructions
****Pssst…the recipe calls for a broiler but the smoky flavor that the grill can add to the scallop is divine!*******
Heat a charcoal grill or set a gas grill to high; bank coals or turn burner to low on one side (see "Grilling 101").
Wrap each scallop in a piece of bacon and secure it with a toothpick. Place the bacon wrapped scallops onto grill, drizzle them with olive oil, and season them with salt and pepper. Grill them away from hottest part of grill for about 10 to 15 minutes until the bacon is cooked through, turning halfway through.
Make the spicy mayo by combining the mayonnaise, chili paste, lime juice, and chopped cilantro. Stir well and refrigerate until ready to use.
To serve, carefully peel away the lettuce leaves and line a large platter with the lettuce cups. Top each with a bacon wrapped scallop, 2 slices of avocado, and a spoonful of spicy mayonnaise. Garnish with cilantro leaves.
Recommended Bev Pairing: A crisp and light Rose to compliment the heat of the recipe
Proscuitto-Wrapped Grilled Brie with Pineapple
Hold the phone, Food Network. You're grilling cheese with pineapple and wrapping it in Ham? Holy delicious sweet gooeyness, this app will tell the other cheese on your cheese board to step up their game. My favorite grilled appetizer recipes comes from the Food Network's Show: How to Win Summer
Ingredients
One 1-inch-thick slice pineapple, peeled and cored
One 8- to 12-ounce wheel Brie or Camembert, cut in half horizontally
8 slices prosciutto (about 8 ounces)
Crackers and bread, for serving
Instructions
Prepare a grill for direct and indirect heat: For gas grills (with 3 or more burners), turn all the burners to medium-high heat; after about 15 minutes turn off one of the side burners and turn the remaining burners down to medium. For charcoal grills, bank one chimney starter-full of lit and ashed-over charcoal briquettes to one side of the grill. Set up a drip pan on the other side to avoid flare-ups. (Be sure to consult the grill manufacturer's guide for best results.)
Grill the pineapple over direct heat until golden on both sides, about 5 minutes per side. Let cool 5 minutes, then place on the cut side of one of the cheese halves. Place the other piece of cheese on top with the cut side touching the pineapple. Lay the prosciutto slices out on a work surface so they overlap in the middle and look like the spokes of a wheel. Put the cheese and pineapple round in the middle of the prosciutto and bring up one slice at a time to cover. The cheese and pineapple should be fully wrapped in prosciutto.
Grill over direct heat until starting to turn golden and crisp, about 3 minutes. Flip with a spatula and cook until golden and crisp on the other side, about 3 minutes. Move to indirect heat and cover the grill. Cook until hot throughout and gooey, 5 to 8 minutes more depending on your grill. Serve immediately with crackers and bread.
Recommended Bev Pairing: A deliciously smooth white wine blend or if you're a beer person, try a Farmhouse Saison brew such as SmartMouth Alter Ego.
Grilled Asparagus with Curried Dill Sauce
We are rounding out the end of asparagus season depending on your climate and this one makes an excellent grand finale for the spears.
1-2 bunches of medium to thick speared asparagus
1/4 C olive oil
2-4 cloves garlic, finely chopped
Juice of 1/2 lemon (set aside other half)
Kosher salt and freshly ground black pepper, to taste
*As soon as you get home from the store: Trim bottom 1/2 inch off asparagus and place in a bowl of water in a sunny window. This will plump them up so they're crisp. If you're on a time crunch, use warm water. Can be left here for 1 day.
Combine all of the above in a gallon baggie or in the bag in which you brought the asparagus home. Squish around to mix. Make Sauce (see below)
Heat a charcoal grill or set a gas grill to high; bank coals or turn burner to low on one side (see "Grilling 101"). Place spears crosswise to the grill on the low side; cook 2-3 minutes and flip. Cook until just starting to char, 3-5 minutes more. Remove to platter, do not cover.
Curried Dill Sauce
1/4 C good quality mayo (we love Sir Kensington's) or Greek Yogurt
Juice of 1/2 lemon
1/4 tsp curry powder
1/4 tsp dried dill – crushed in your hand before adding or 1/2 tsp fresh finely chopped dill
Kosher salt and freshly ground black pepper, to taste
Mix together and chill. Serve with Asparagus. Works equally well as sauce for steamed artichokes, fish, or broccoli rabe.
Recommended Bev Pairing: A crisp Sauvignon Blanc (a Sancerre if you can find) or Pouilly Fume
Grilled Peaches with Creme Freche
This is one of the universe's most delightful summer desserts and it's not even that bad for you! Winning!
~6 medium firm, but not hard, free-stone** peaches (1 

per serving)

Avocado oil or coconut oil
1/2 pint Creme Freche (or plain whole milk yogurt if you can't find but you'll need to add more honey)
Zest of 1/2 lemon or lime plus ~1Tbs of juice
2 TBS Finely chopped fresh mint
1/8 C good quality honey
**free stone peaches will twist off their pits when halved – as at the store if they know which ones work, or if they'll cut one for you to test
Heat a charcoal grill or set a gas grill to high; bank coals or turn burner to low on one side (see "Grilling 101"). Halve peaches and remove pits. Brush skin and face with oil (if using coconut, you'll have to warm it to liquid). Grill peaches over high heat face down for 2 minutes. Turn skin side down on low heat area of grill and cook until softened and skin is starting to easily pull away – about 6-8 minutes more.
While peaches cool, combine Creme Freche with juice and zest. When peaches have cooled to room temp, serve with a dollop of Creme, sprinkle of mint and generous drizzle of honey across the top.
Recommended Bev Pairing: A mellow chardonnay, Fume Blanc or sweeter dessert wine if you like them.
Eat, drink and be very, very merry friends!
xoxo, Lockers to Littles