News flash from your resident real estate mommy blogger: the real estate market is off-the-chain this summer!! Many markets are experiencing a housing supply deficit and increasing demand, inducing many homeowners to consider placing their home on the market for sale or for rent.
As a former Realtor, I am often asked for advice on listing and showing a home in today's market. As anyone who has worked in a service industry knows, there is a delicate balance between honest disclosure and a client's feelings. This definitely rings true in the arena of real estate advice.
However, since the basis of this blog is keeping it real, (right?!?) I have included without pretense, the following essential, no-nonsense, "if your agent was your best friend they'd tell you" advice for listing and showing your home.
First Impressions begin Outside
Now that we have all OD'ed on HGTV (thanks, Joanna Gaines) it's pretty common knowledge that interested parties make a decision on a home based on their first impression and that curb appeal is important. Just how long do you get as a homeowner to make that first impression? Experts estimate about a whopping thirty seconds. And what many homeowners forget is that by the time prospective buyers or tenants get to your front door, their clocks have already been ticking.  Enter: The importance of curb appeal. 
The good news is you don't have to go all Fixer Upper and make structural changes to give your home a major curb appeal facelift. Here are some quick and inexpensive ways to improve your home's first impression and keep potential buyers and tenants rolling in.
Tidy the yard and patio.
It seems like a no-brainer, but so many people don't bother with this. Basic maintenance in this area really goes a long way. Mow and trim your grass. Put down a few bags of fresh mulch. Weed. Sweep. It matters!
How well a yard is cared for is often seen as a reflection of how well a home is cared for, and plenty of prospective buyers and tenants will drive right by based on their first impression. So, get out there and do it yourself for free, or pay a kid down the street. Nextdoor is a great website/app if you are looking for local, affordable help in your neighborhood.
Power-wash, everything.
Pretty much any surface that can be power washed, would likely benefit from it. Fences, siding, brick, patios. You can rent one from the hardware store, pay a local handyman, or depending on the size of your project and willingness to DIY, purchase one yourself for a couple hundred bucks.
Clean the gutters!
I can't count the number of properties I toured where plantlife was legitimately growing out of the gutters. And people always notice. It reflects a lack of care that buyers/renters worry carries to the inside of the home.
Add some cheer.
If you have the time and budget, a nice little planter and some cheerful blooms can go a long way on an otherwise plain entry. Sprucing up garden beds, or simply placing potted plants or hanging baskets is a great way to up your home's appeal.
Keep it Clean, but Personal is OK too
The notion that anything personal becomes instantly undesirable when placing a home on the market seems to have, at some point, permeated homeowners' minds. A common question from prospective sellers preparing their home for sale is "do I have to take my family pictures down now?" My answer is no. Don't sweat the small stuff. What I absolutely do suggest instead is focusing on major decluttering and cleaning.
Temporarily remove large toys or furniture pieces that make rooms seem smaller, clear small appliances and STUFF off of counters. Spend money on a cleaning service,  and put STUFF AWAY! (Hell, hide your unfolded laundry in the car! I've done it!)
Not all personal touches are bad after all, and can often lend warmth to a space. Very personalized spaces such as large murals or a room packed to the brim with memorabilia can usually be mitigated by a good decluttering (and maybe some temporary wallpaper in the case of the former). So keep it clean and personal. Picking up and organizing is always more important than removing your family photos from the hall, no matter how nerdy those photos may be.
3. What is that Smell?!?
Incoming smells are first processed by the olfactory bulb, which has direct connections to two brain areas that are strongly implicated in emotion and memory, thus making smell a very important sense in establishing our idea of home. Yet, for some reason, that "smell of home" is something that many homeowners neglect in the marketing and home staging process.
On the real: When prospective buyers/tenants view your home, they don't want to smell your gym shoes, what you had for breakfast, what's in your trash, or what kind of pets you have. PLEASE, PLEASE light candles, buy diffusers, or burn incense, or something.
Clean, light scents work best. Here are some of my favorite candles, by James and Maria Organic Co. The scents are long-lasting and lovely. They are made in the USA, and give 20% of their profits to help educate under privileged kids in third world countries by giving them uniforms, materials and means of transportation. Done and done.
No Pets Please
Speaking of smells…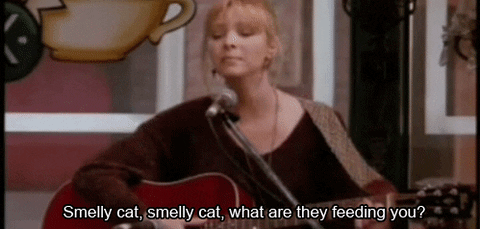 No, seriously. I LOVE animals, and I LOVE having pets. (Like to the point that my husband is thankful for zoning requirements that keep me from having a yard full of them.) But pets don't sell houses.
Before you go crazy, I am not in any way saying to get rid of your pets to sell or rent your house. What I am saying is please don't leave your pets unattended in your house during prospective buyers'/tenants' home tours. While it may seem like common sense, I can't tell you how many properties I toured where I was quite literally greeted by an animal at the front door. (The most memorable being an uncaged a macaw with a seemingly endless wingspan. Forreal.)
If you have an agent or someone you trust showing your property and have the ability to leave, consider taking your pet on a walk, to the park, or for a car-ride during the showing. If you are showing the house yourself, check into local pet daycare options to allow prospective buyers/ tenants to view your home, pet-free. At a minimum if you have to be there with your pets, keeping them contained in fenced areas or crated (if they are comfortable in one, of course) can help home-viewers feel more at ease.
"Let me take a selfie!"
… but really, don't. 
How your home is presented online more times than not will determine whether you get prospective tenants/buyers through the door. If you're selling with an agent, screen their listings and ensure that they are presented in a polished, professional way. If you are listing your home yourself, consider springing for professional photos. No matter how good you think your iPhone pictures look, the professionals will look that much better.
Considering the money a quicker sale or lease will save you, the expense of a photographer is often a worthwhile investment. At a minimum, screen your listing photos carefully. No kids in the background, cats on the sofa, mirror reflections, or dirty plates allowed.  Include a photo of every room in your home and order them as you would see them walking through your front door. As in most things in life, and particularly in our internet age, presentation really matters.
Set the scene
If there is something you love about your home, feature it. If it's seasonally appropriate, light that gas fireplace, or open the windows and let in that breeze off the water. If your home has strong selling points that you can't necessarily put on display, consider creating a features list that includes them, such as distance to attractions/eateries or schools. A good agent will take care of that for you.
Don't Creep
If you are using an agent and have the ability to leave your home during showings… get outta there. If you are listing your home yourself, you can have a trusted third party supervise a home tour, OR if you will be present during the home tours keep your interaction with prospective buyers or tenants as minimal and professional as possible. In other words, do answer questions, but don't follow prospective buyers or tenants around and describe every room in detail. They'll ask if they want to know. Trust me.
Do Your Research
Whether you are listing with an agent or on your own, be informed and be realistic about pricing your home for rent or for sale. An overpriced home will be on the market longer, and will often end up selling or renting for less after multiple price reductions, than a competitively priced property.
Industry professionals determine pricing based on a number of factors including the price per square foot of comparable sales or rentals and other factors such as location, inventory, and the features of your home. Don't assume that because your neighbors house went for a certain price, that yours will too. While a professional's experience and input can be invaluable, with homeowner internet resources readily available like Zillow, RedFin, and Trulia, you can research comps in your neighborhood yourself and be informed about realistic, competitive pricing.
May the Force be With You
Selling or renting your home can be stressful, but I hope this no-nonsense starter guide is helpful (or in the least, entertaining as you imagine me running from a macaw in heels) as you pursue a successful home listing and showing experience. As always, shout out with any questions!  Cheers to happy homes!
Christiana is a Navy wife and mother of 3, attorney and former realtor, world traveler, home renovator and decorator, yogi, fitness enthusiast, and recipe and fine wine explorer.