In case you clicked on this post thinking it had to do with body shapes or positive body image – that's not the fat I'm talking about here. Although, I do fully believe that there is a wide range of healthy body shapes out there and that no person should feel shame about theirs. I digress…
What I'm actually writing about here is the fat we eat. Unless you've been living under a rock for the last decade, you should be at least a bit aware that 'trans fats' are BAD and 'omega-3 oils' are GOOD. I'm going to both give you a bit more detail and also simplify it at the same time. **As always, this blog post is meant to give you information and not as personal medical advice since I am not your personal doctor. **
For decades, people with high blood pressure, high cholesterol, diabetes or obesity have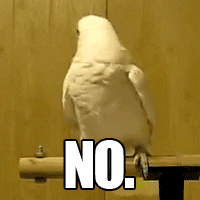 been told to follow a "healthy low-fat diet". That is an oxymoron. It turns out, that exact advice has been a huge driving force in the EPIDEMIC rise in all of the above conditions.  We are just now starting to get a grip on the actual data and the conclusion is undeniable: a diet very high in healthy fats and very low in carbohydrates can prevent and reverse that damage. There are a tiny handful of people with specific health conditions in which they have to limit fat intake. You are probably not one of them.
Good fats go into your body and provide steady energy, a vehicle to transport important nutrients and hormones around, and keep your blood vessels and nerves healthy. Bad fats get in there and gum up the machinery, clog those arteries and often carry harmful things in with them. Your body needs a LOT of those good fats, probably more than you think.
I have to admit, I too was a skeptic for a time. Enter Whole30 diet in which you eat only vegetables, fruits, meats (SO much meat), nuts, seeds and eggs for 30 days and NO grains, legumes, dairy, sweeteners of ANY kind, alcohol, soy or chemical additives. You aren't supposed to track calories but I was curious – on average I was eating about 100-120 grams of fat per DAY, lots of it saturated. And you know what? I lost 15 pounds and 2 pant sizes and felt like a freaking super-hero by the end. Depression better, sleep better, skin better, energy better. It just works.
So, how is one to navigate this?? There are a few simple rules.
No reduced-fat versions of foods.
Not all fats are created equal, increase the good, limit the bad
If something is high-fat, try to choose the highest-quality.
Want a little more detail? Read on, my friend!
Rule 1: Choose the full-fat version
"Whaaaaaaaaat?", You say. Not even low-fat yogurt?? No. We are evolved to like the taste of fat. When fat is removed from foods, food manufacturers have to replace it with something – both for the volume lost and also for the flavor. The answer in most cases is carbs/sugar and salt – both of which have a huge body of evidence to show they are harmful. Diabetes, obesity, hypertension, and multiple cancers included in the 'harm'.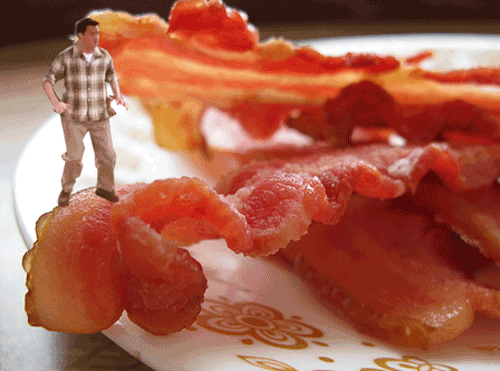 Moreover, when you have less fat, you have to eat more to feel satisfied because of the way hunger signals translate from stomach to brain. That big old bolus of sugar/carbs you ate instead causes an insulin spike that stores away fat in your body (no thank you extra stored fat!) and then crashes into hunger soon after. Higher fat foods, however cause almost no insulin spike. Check out the difference:
So, does this mean I can eat bacon and eggs for breakfast, a steak with butter on it for lunch and breatwurst wrapped in more bacon for dinner as part of this healthy low-carb, high fat diet? Um, no. (though there are some interesting studies in which people did just that…). Most people would still say your diet should include plenty of non-starchy plants (aka not potatoes, corn, peas or carrots). Half or more of your plate should be vegetables like broccoli, cauliflower, greens, bok-choy, asparagus….. or sometimes fruits like so:
Rule 2: Know Good vs Bad fats
So which are which? Nuts, seeds and fruits tend to have healthy fats and should be the largest source of your fats. Newsflash: corn (aka Canola), soy, cottonseed, palm fruit and peanut oils do NOT fall in this category. Coconuts, tree nuts, sunflower seeds are great for eating and their oils for cooking.
And, yes, I said fruits. Avocados and olives are fruits with hella good fat content (California joke). Good fats can also come from fatty fish such as salmon, tuna and trout – or for the more adventurous palate, sardines and mackerel. Good quality meats and dairy can also be a great source – more on what "good quality" means below. If you have to buy the cheap cuts – limit these a bit.
The worst fats are the ones humans have done something 'advanced' to that alters them. Ask yourself: Is it is a processed 'food product' like margarine or Doritos? Bad. Did the animal or plant it came from have it's natural lifestyle disrupted for mass production? Bad. Did it come from a lab – aka trans fats and hydrogenated oils? SO SO BAD.  Avoid, avoid, avoid. Also, avoid heating liquid oils (canola, olive, avocado, etc..) to high heat as this can create carcinogens (cancer-causers). Better to use coconut, ghee (butter), or animal fat.
Rule 3: Choose High Quality Fats
Some of you might be thinking at this point… is this what that Atkins Diet was saying? Yes and no. The Atkins Diet skims over the high-quality vs low-quality fat delineation and just says: increase fat, lower carbs. This is a good step in the right direction. However, the quality of the fat also matters, and I'll tell you why.
Most things that we put into our bodies can be categorized in one of 2 ways – fat soluble or water soluble. In a huge simplification, that means that it can get through your gut and into the rest of your body by 'riding' on a fat or with water. Vitamin D, for example, is fat-soluble. So you want to take it after eating some fat. Vitamin C, however, is water soluble so can be taken with just water. This also goes for nasty stuff you don't want in there. Many chemical pesticides, growth hormones, antibiotics and even heavy metals like mercury are concentrated in fats. Furthermore, the good fat to bad fat ratios change dramatically when we take an animal and feed it an 'unnatural' diet.
If a cow is fed grass, as nature intended, the fat profile in those rib-eye steaks and that delicious milk is WAY healthier than if they are corn fed. Not only that, because that corn-fed cow was on a diet it's body wasn't made for, they are loaded up with hormones and antibiotics which ride on in to your system with that fat. Note: organic doesn't mean grass fed, but is still better than non-organic.
Where your budget allows, buy these top quality fats. Organic olive oil and avocado oil are cheaper at Costco. Search out the deals on grass-fed beef. Then cook it in some organic ghee and top off with organic Bechamel served with some broccoli roasted in coconut oil. Then tell me how "deprived" you feel on this diet 😉  It's really not as hard as you think!
Take home point: Eat LOTS of fat, don't worry about how much but do worry about what kind. Choose organic plant oils and aim for organic/free range animal products.
Resources:
There is a lot of emerging information about this (finally!!), here are some ways to learn more:
Watch this YouTube video: https://youtu.be/da1vvigy5tQ
Check out DietDoctor.com – translated into many languages in case you want to share information with a non-English speaker.
The following books are fantastic:
Dr. Annie is a family physician, wife and mom of 2 girls in the Sacramento Area who, yes, cooks everything in butter.