We are in a judgement free zone here.  Everyone, and I mean everyone, makes bad financial decisions as a teenager and young adult.  I walked onto my college campus at University of Miami, and on the first day got offered a credit card through Capital One.  You'd be wrong if you didn't think that I used that card like it was free money for the first month and then was horrified when I realized I needed to pay it back with 24% interest!  (Yikes!!)  Then, as an adult?  Life happens.  Jobs come and go, (and sometimes marriages come and go) but life expenses don't.  Sometimes this can cause our credit scores to tank.
Why do we care about our credit score?  First of all, if you have a bad credit score, it means you will pay more to borrow money than someone with a good credit score.  If you walk into a used car lot with a bad credit score and finance the purchase of a $10,000 car, you will end up paying more for that car than if someone with a good credit score walked in the same day to buy the same car for the same amount of money.  Why?  You'll be offered a higher interest rate for that financing and ultimately make higher payments over a period of time.  Also, nowadays, when you are interviewing for jobs, most potential employers run your credit score before deciding to hire you.  Seem unfair?  Perhaps, but it's a common practice because they want to know if you are reliable.  Finally, if you are looking to rent a home, they'll run your credit score too.  These are just a few examples.  Your credit score follows you everywhere, and, like an annoying little sister, it doesn't care whether you want it there or not!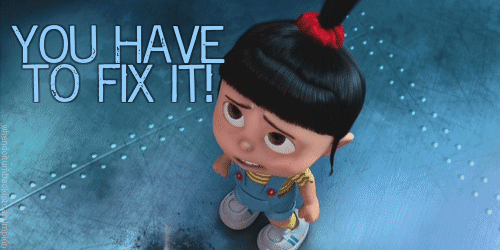 For most people, there will be times when their credit score is less than stellar.  However – Don't despair!  The great news about your credit score is that you can ALWAYS take steps to repair it.
What are those steps?
Online Auto-Bill Pay: This is the most important one.  Set this up immediately!  Remember, online bill pay is different than automatic-debit.  Automatic debit is when you allow a creditor (like your cable company or electric company) to TAKE money from your account on a monthly basis.  (I don't want you to do automatic debit, and I will explain why.)  Online bill pay is when you schedule to SEND money every month to a creditor from your bank account.  So, why is online bill pay better for your credit than automatic debit?  The credit bureaus are computers, and they track your reliability as a credit-worthy consumer based on the regularity with which you make payments on the exact same day every month.  When you allow automatic debits from your account, the cable company likely takes your monthly payment on different days every month based on its business schedule.  Sometimes it's the 1st, sometimes the 2nd or sometimes the 3rd depending on the month.  The credit bureau doesn't deem you as reliable when your payments are taken this way.  When you set up online bill pay to send your payment every month on the 1st of the month, the credit bureaus will deem you more reliable more quickly, and your credit score will improve much faster.  Bottom line: Cancel ALL of your automatic debits and instead set up online bill pay through your bank for at least the minimum payment every month on the exact same day.  Then, once a month go in and adjust the amount you will pay depending on the fluctuations of what you owe (like for your electric company).  Watch your credit score improve in the months to follow!
Pay your credit cards down to less than 50% of the total limit. Here is another important one.  Credit bureaus deem you worthy of an improved score when you have all of your credit card balances down to less than 50% of the total limit.  This is indeed the magic calculation.  Of course, it's always preferable to keep your credit card balances down to zero because they are high-interest rate debt vehicles, but realizing that's not always possible, try to focus on keeping them down to 49% of limit or lower.  For example, if you have a credit card with a limit of $5,000, be sure to keep your balance at $2,499 or less.
Pay at least the minimum you owe on all of your bills every month.  This seems like a simple one, but some people don't realize how important it is.  Don't avoid your bills – they won't go away.  They'll only get worse!  If you can't afford the minimum payments, call the creditor and ask them for options.  Proactively addressing these issues is always seen in a more positive light, and the creditor is less likely to send you to collections when you do this (which will cause a decline in your credit score.)
Monitor your credit score, pull your report once a year and dispute any fraudulent (or wrong) charges. There are truly free companies that allow you to do this, and you should.  I know someone who looked at their score to find that someone across the country had used their information to get a knee replacement, and never paid for the surgery.  This is a huge pain in the butt to comb through the report and make disputes, but this is an absolute necessary exercise to ensure you aren't being punished for fraudulent activities, or in some cases, mistakes of companies who report to the bureaus.  Keep in mind, if a company who claims to provides "free" reports asks you for your credit card information to sign up, they will at some point start charging you for the service.  And, it's very hard to cancel.  So, don't do that.  There are also businesses that you can pay to dispute charges – but why pay someone else to do it when you can easily do it yourself?  All it takes is some time and a little bit of patience.  An example of a company to check out for this service once a year is: freecreditreport.com.
Stay away from bankruptcy: Yes, sometimes it is necessary to consider this, but it should ALWAYS be a LAST RESORT.  Bankruptcy is very, very hard to recover from.  You should always consult a financial advisor and an attorney if you are considering going this route, however, remember that there are a bunch of steps you can take to climb out of a bad financial situation that don't include bankruptcy.  It takes between 7-14 years for your credit score to bounce back from bankruptcy.  Don't make this decision lightly.
The bottom line is that ignoring your credit score is like ignoring poor heart health.  Just because you ignore it, doesn't mean it will go away, and ultimately it will harm you significantly if you don't address it proactively!  It's not as hard as you think, I promise!
Your friend,
Margo